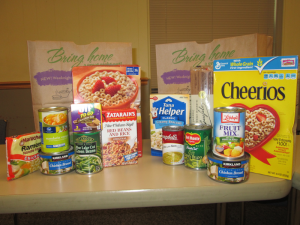 Many of the men, women and children we serve don't have the essentials for daily living. Help us provide nutritious meals, clothes, school supplies, personal hygiene products, and other essential items so our residents can focus on their path to transformational change. Contact us at kbarnes@hhmission.org or (513) 392-2006 to arrange a collection drive with your friends, co-workers or church. Individuals can drop off donations Monday through Friday from 9:00am to 5:00pm at 1001 Grove Street, Middletown, OH 45044.
Food Items
We currently serve over 60,000 meals per year. Fresh produce, dairy and meats are needed and much appreciated. If you donate fresh items, please make sure they are not expired or on the verge of spoiling. Thank you!
LARGE Size Canned Items: vegetables, fruit, soup, ravioli, canned chicken, tuna, etc.
Dry Food: oatmeal, grits, crackers, macaroni & cheese, egg noodles, pasta/spaghetti, flour, cornmeal, salt/pepper, white/brown sugar
Frozen fruits and frozen vegetables
Condiments: mustard, ketchup, mayo, hot sauce, BBQ sauce, salad dressing
Drinks: juice, Kool-aid, Gatorade, coffee, creamer, sugar
Kid's Snacks: pudding & jello cups, fruit cups, trail mix, goldfish, popcorn
Non-Stick Cooking Spray
Meats: Ham, Turkey, Beef, Chicken
Dairy: milk, butter, eggs, cheese
Household Items & Cleaning Supplies
Paper Products: plastic ware, paper towels, toilet paper, dose cups, Styrofoam cups
Ziploc Storage Bags with slidding zipper, quart size
Children's Cups, plates, utensils
Trash Bags: 13 and 30/33 gallon
Multi-Purpose Cleaner
Clorox wipes
Bleach
Fume-free oven cleaner
Dishwasher Soap
Dishwashing Liquid
Lysol Spray
Air fresheners
Disposable Gloves (M, L & XL)
Hair nets
Bath towels
Pine sol
Comet kitchen cleanser
sponges
Gift Cards
Grocery store cards, home improvement stores, etc.
Toiletries
Deodorant
Body Wash
Shampoo/Conditioner
Hair brushes
Plastic Shower curtains
Lotion
Chapstick
Hand sanitizer
Ibuprofen
Clothing Items
While we do have clothing needs for our residents, due to lack of storage space we are partnering with community organizations to serve our resident's needs.
New flip flops
Men's and Women's scrubs